Dedicated Servers suitable for Gaming Servers
Why us and choose one of our dedicated servers?
The ultimate gaming experience
Our Game servers have up to 1Gbit/s bandwidth, to process traffic without compromising service availability. It is a perfect solution for professional resellers and publishers, with optimal performance at an affordable price.
Raw power
The latest generation of Intel Xeon processors, offers significant architectural changes that are reflected through optimal performance. At Here-Host, you can harness the full power of these processors, with high quality cooling to ensure constant optimal performance. And with this processors, you get up to 30% higher performance compared to previous generations.
Which games or software programs do you need to rent a Game server for?

Mumble
Install this free VoIP software on your dedicated server to benefit from its features while you play games. It is widely used on Minecraft servers, for exchanges between players.
Twitch
Configure Twitch on your dedicated server to stream your live games, while interacting with your community.
Minecraft
The most popular sandbox multiplayer game on the market. Manage your Minecraft servers, and add all the mods you need.
Ark
Explore maps filled with dinosaurs, ready to eat you up! Domesticate them, then train them to protect you and collect resources - without having to worry about whether your Ark server is working properly.
Garry's Mod
Get the most out of the Garry's Mod source engine, with the Game range of servers. Build mods freely, for memorable gameplay through your Gmod server.
L4D2
Play Left 4 Dead 2's different gaming modes in private mode, on a server specially designed for online gaming.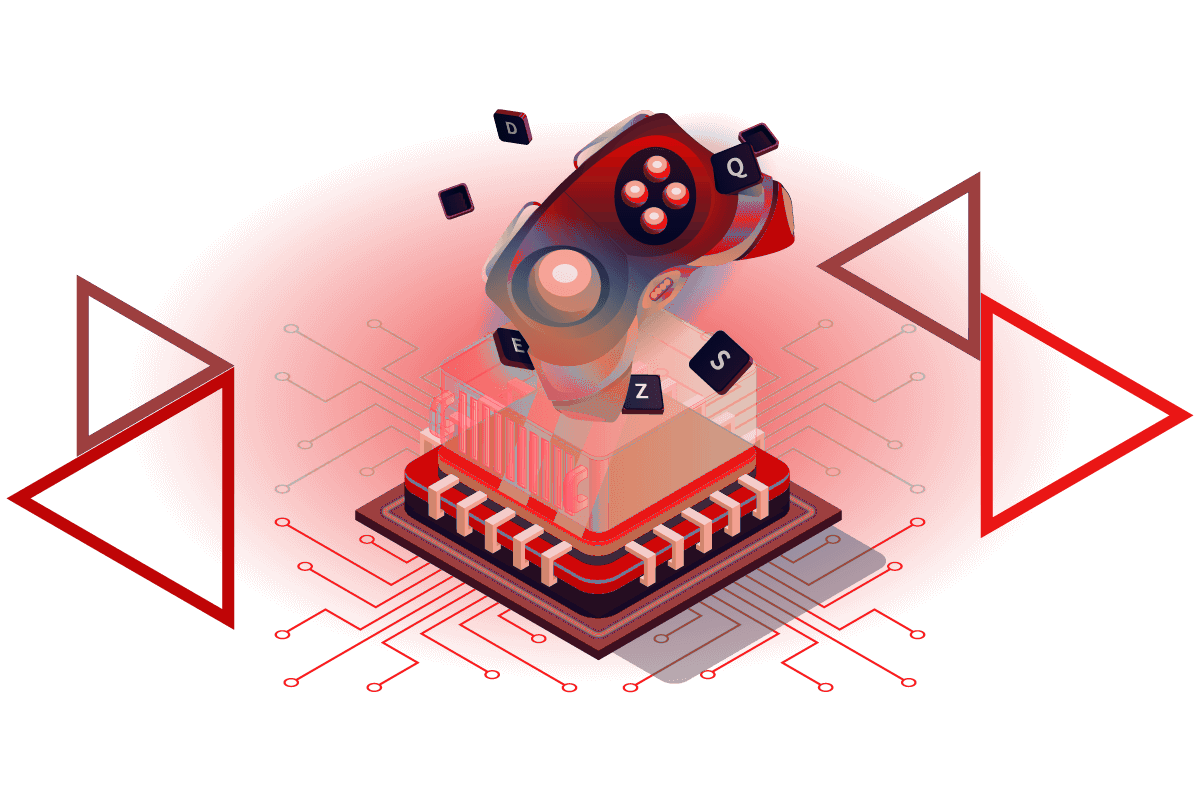 TeamSpeak
Win against your opponents when you play multiplayer games, in training or competitions, with TeamSpeak voice chat. Create chat channels for each game your community plays.
CS: GO / CSS
Run private games of Counter-Strike: Global Offensive and Counter-Strike Source on a Game dedicated server. Performance and fluidity are optimised for your tournaments through your CSGO server.
Rust
Host Rust on a Game dedicated server to leverage all the power of this range. Survive as long as possible through your Rust server.
Arma
Become the most popular Arma community with a Game dedicated server, ready to host hundreds of hours of activity. Enjoy your Arma servers with complete peace of mind.
Team Fortress
For private online gaming sessions, you can offer your customers private Team Fortress servers.
Fivem
Best custom roleplay or gang-war Framework for GTA V, you can build fast and quality servers.
---
GAMING READY SERVERS

CPU
Intel Xeon E5-2620v4
Intel Xeon E-2288G
2xIntel Xeon E5-2620v4
CPU CORES
8
8
16
CPU THREADS
16
16
32
BASE FREQUENCY
2.10 GHz
3.70 GHz
2.10 GHz
TURBO FREQUENCY
3.00 GHz
5.00 GHz
3.00 GHz
RAM FROM
16GB
16GB
16GB
RAM TYPE
DDR4
DDR4
DDR4
Disk Space
2 x 1TB HDD
2 x 1TB HDD
2 x 1TB HDD
Disk Bays
8
8
8
Traffic
100 Mbps
100 Mbps
100 Mbps
Server Uplink
1 Gbps (dedicated)
1 Gbps (dedicated)
1 Gbps (dedicated)
Bandwidth
Unlimited
Unlimited
Unlimited
Hardware Raid
Hardware Customization
Free IDRAC/IPMI
Support
24/7
24/7
24/7
Geekbench 4.3 for Linux x86 (64-bit)
3152
Single-Core Score
6495
Single-Core Score
3191
Single-Core Score